Breast enlargement cylinder Sizing Guide
Cup sizing guide:
If it has been a while since you have had your bra size measured, then we recommend that you check your current fit.
To measure your cup size you'll need the following:
Your best fitting non-padded bra, preferably one that is less than a year old
A tape measure
A large mirrora
To measure your band size:
Wrap the tape measure firmly under your breasts, just below where your bra sits, making sure the tape is snug but not so tight that it causes discomfort.
Take your measurement in inches.
To measure your bust size:
Measure loosely around the fullest part of your bust, which is normally over the nipples, making sure the tape measure is straight all the way around your body.
Take your measurement in inches.
To calculate your cup size:
Subtract your band size from your bust size, the difference between the two will give you your cup size which you can check on the chart below.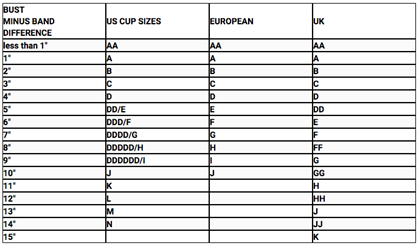 Please check the sizing guide before purchasing to find your recommend cup size:
System size = Your current Bra/chest size
Extra Small Cups = 26A – 30AA
Small Cups = 28B - 32AA
Medium Cups = 32A, 32B, 32C, 34AA, 34A,
Large Cups = 32C, 34B, 34C, 36B, 36C, 38B, 38C, 40A, 40B, 42A, 42B, 44A, 44B
Extra Large Cups = 32D, 32DD, 34D, 34DD, 36D, 36DD, 38D, 38DD, 40C, 40D, 40DD, 42C, 42D, 42DD, 44C, 44D, 44DD
Extra Extra Large Cups = 42DD, 44C, 44D, 44DD and upwards.
For example, if your bra is currently a 36B, you will need to buy the 'Large cup system'.
Bra Size Calculator:
If you are unsure about your bra or chest size, please use this online Bra-size calculator here or email : info@vitalitymedico.co.uk :